Update: ebookcover.pro is now part of Ondine a more greater tool to design cover.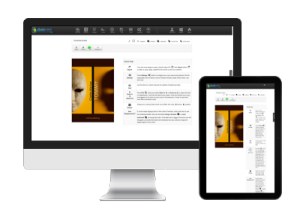 Summary
Today, Omniteca Lab, a leading web-based graphic design solution, is pleased to announce the launch of its one-of-a-kind app: e-book cover creator that can create 100% unique e-book covers.
Press Release
In every respect, digital publishing is a dynamic industry that often need new concepts as regard e-cover design, to make it easy for authors to create attention-grabbing cover designs. Today, ebookcover.pro launches its exclusive e-book cover maker that authors can use to create 100% unique e-book covers within minutes.
As Giovanni Nicolazzo the CEO of Omniteca Lab states, it's been observed that most of web-based tools to make covers only provide templates wherein users can input their 'variables' to create their e-book covers, but
"in such cases, authors may have high risk to use the same templates and designs some other already used: the only difference would be the words written on the final product. Ebookcover.pro offers more than that!"
he reveals.
"Today, ebookcover.pro has added a new dimension to book cover design as it now offers indie authors an online tool to create unique covers without any hassle. The site features easy-to-use tools to be employed to create a unique e-book cover from scratch within minutes. Graphic design skill is not required to use the web-based application,"
states the CEO.
While explaining the exclusivity of their e-book cover creator, he affirms that the site will offers not only eye-catching templates, but above all premium ready-to go covers, by an option which assure the author nobody else could use the selected cover.
Once a premium e-book cover will be selected by a user, it will be automatically erased from the storefront and not available to any other buyer.
Speaking on the value of unique book covers, the CEO of ebookcover.pro confirms:
"Authors who want a high rate of conversion while promoting their products should have a very good cover for their books. Now, with an access to our e-book cover maker, e-book cover creation won't be complex and expensive any more."
As of today, ebookcover.pro has a high customer satisfaction rate as it is getting more positive feedbacks from users.
"For my third book, I've decided to do a cover by myself and I've been very proud to realize that, me too, I can do a good job! Really, I'm unskilled about graphics, but I may say that the cover I've created is perfect and it's just what I was searching for."
a satisfied user comments.
For more information on the web application that now help authors to create unique e-book covers, go to https://ebookcover.ondine.pro
Media Contact
Alex Buaiscia
info@ondine.pro
About Us
Ondine.pro is the private label brand of Omniteca Lab, a company that provides services and products that are associated with book publishing, and these include e-book creation, graphic design, online marketing, and proofreading. It started out in 2010; and today, it has helped several authors achieve their goals. Omniteca Lab also owns eBook-Reader.it and recensionilibri.org – the sites are dedicated to books, and tools for authors in italian language.